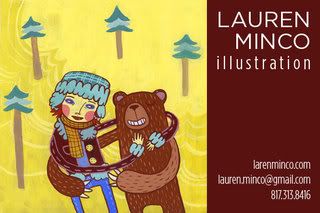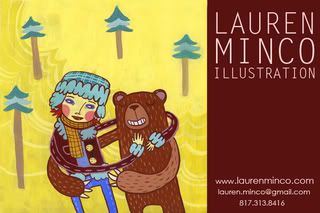 If you ever make a promotional mailer, it's great to have some graphic design-savvy friends look over it. They can help you with typography, use of space, and making sure your postcard doesn't come off as I-have-a-copy-of-photoshop-but-can-you-tell-I'm-an- amateur? For this next batch I was working with square images and wanted the images and text to read comfortably but also effectively. Of course your art is the center piece, but remember that overall presentation is very important.
For instance, The above version is the improved version (but "illustration" will be gone from the final design and obviously I will spell my name correctly in the final!). Below is the old one. Some things my buds mentioned...
1) centered text makes you look very inexperienced. That's GD 101 right there. We went with the right justification with the margins.
2) The font I was using had odd spacing, especially with the "i". The new one has more cohesive use of space between the letters.
3) Like I mentioned before, we're taking out "illustration" mainly because I used it as filler.  You'd be surprised how much empty space you can have in an area and still have a good design. People who don't know how to do effective GD usually want to make type too big or stuff an area with too much info.
That's it for today! I'll show you the final along with the back sometime next week. :)